The Jackson's home was constructed around 1910 when the region was a wilderness. It is a good example of Florida's historic "cracker" style of vernacular architecture with the deep porches and large windows for cross-ventilation. The center portion of the home, made of Florida pine, is the oldest part of the house and is distinctive in its simplicity. The Jacksons added the North bedroom and bathroom and installed indoor plumbing. Until 1989, Laura lived in her home without electricity using kerosene for heat and light and propane to cook.
After her death in 1991, a group of concerned individuals created the non-profit Laura (Riding) Jackson Home Preservation Foundation to save the home as a focal point for the study of literature, history, architecture and the environment.
The Jackson home was first moved on August 9, 1994 to the Environmental Learning Center, and again on July 14, 2019 to Indian River State College's Mueller Campus. Ongoing preservation of the home is a major goal of the Foundation. The home is open for public tours. The home is registered as a Friends of the Library USA National Literary Landmark and is listed on the Florida Literary Map.
The house is open for tours from November through April each year. In 2023-2024, the house is open on the second Sunday of each month from 1pm-5pm and every Tuesday from 1pm-5pm. You can just drop by and our amazing volunteer docents will give you a tour! We can accommodate groups of 8 or fewer as drop-ins; to bring a larger group, please reserve in advance by using the form below.
If you visit when the house is closed, you can still learn about the house by using the informational signs around the property. QR codes posted on those signs will take you to videos you can watch on your mobile device.
Visitors are welcome on the grounds from sun-up to sundown. You may walk in the garden or enjoy lunch at the picnic tables under the pole barn unless there is a group event going on. Please check our calendar for when the barn and house are reserved and therefore unavailable to the general public.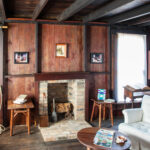 Back in February of 2021, the Community Church of Vero Beach did a livestream tour of the house on Facebook. Board member, Susan Boyd, gave a phenomenal tour of the house where she explained what it would have been like to live there. In the video, you are able to see all of the house and get to know a little bit more about Laura. Thank you Community Church of Vero Beach for coming out to the house for a tour!
---
Moving the house and pole barn in 2019 was no easy feat. Check out this video showing how it was done:
---