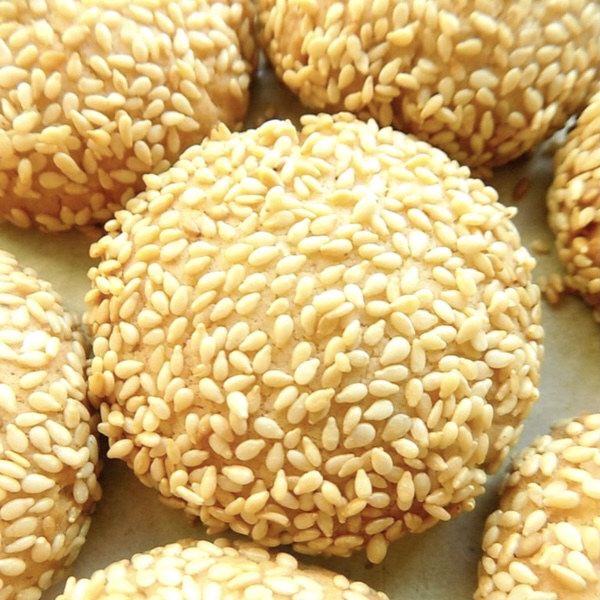 Guests to Laura's home would often be given some of her homemade sesame cookies. These are delicious!!
Ingredients:
2 sticks of butter at room temperature
1 cup of sugar
1 egg
1 teaspoon of vanilla
2 cups of flour
½ teaspoon of salt
½ teaspoon soda
1½ to 2 boxes of sesame seed (2¼ oz size)
Instructions:
Cream butter and sugar very well. Beat in egg and vanilla until fluffy, and fold in sifted dry ingredients. Divide dough in half and spread out each half on a dinner plate with the back of a spoon, to about ½ inch thickness. Cover with foil and chill overnight. When ready to bake, set oven to 350°. Take out 1 plate at a time and, with a table knife, score dough in ½ inch squares. Cover bottom of a small saucer with sesame seeds. Scoop up dough squares and roll in sesame seeds to coat. You can roll 3 or 4 squares in seed at a time, but no more. Place on a lightly greased cookie sheet 2 inches apart. Continue process, adding sesame seeds to saucer as needed, until dough is used up. Bake until light brown, approximately 10 to 12 minutes. Remove immediately to plate or rack; cool 5 minutes and store in cookies tins. Makes 9 or 10 dozen cookies. Will keep well at least 2 weeks in tightly closed container.